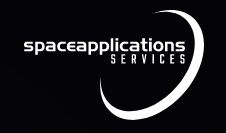 Space Applications Services (SPACE) is an independent Belgian SME founded in 1987, with head office in Zaventem, Belgium. In addition to its in house engineering projects, the company provides engineering services to the European Space Technological Centre (ESTEC) and the European Astronaut Training Centre (EAC). Its aim is to research and develop innovative systems, solutions and products and to provide technology development, operation and training services to the aerospace and security markets and related industries.
Space Applications Services' activities cover manned and unmanned spacecraft, launch/re-entry vehicles, robotics, communications and solutions for earth observation, science and space exploration.
SPACE is a technology developer, system integrator and provider of technology enabled services typically for demanding and hostile environments and where safety of life is important. The company provides system engineering services for the development of technology and robotics for use in space and in crisis response situations. The company operates, on a continuous basis, control centres and uses control centres for the remote operation of complex scientific payloads and robotics in space.
SPACE is also the developer of the LUVMI rover (as part of the H2020 LUVMI project) that was tested in analogue environment in Q4 2019, and is Coordinating the H2020 LUVMI-X project with responsibility for a revised lunar rover version development. The LUVMI-X ground prototype rover will be made available to the CoRob-X project in 2021.
Within the Project, SPACE will be the Product Maintainer responsible for the maintenance of InFuse, with the support of MAG.
SPACE will bring in CoRob-X their LUVMI-X rover platform that will be one of the 3 robotic platforms to be used, and adapt as deemed relevant to cope with CoRob-X scenarios.The SME will also develop the essential monitoring capabilities as part of a transportable station (Monitoring Station).